Etiquette is not about putting on airs and graces and pretending to be posh! It's actually all about consideration. Here at The English Cream Tea Company, we love and cherish the history and etiquette of Afternoon Tea. We believe youngsters need to be shown the art of enjoying Afternoon Tea too!  If they master that, they master the way to create rapport and that's a most valuable asset in life.
Jane Malyon (Chief Scone Gnome/MD of The English Cream Tea Co) is an acknowledged expert on this topic. Buy her best selling book or a 1-1 masterclass in etiquette. Her gorgeous hardback book: Scone or Scon(e) - the essential Guide to British Afternoon Tea is an Amazon best seller and available to be sent out (signed if you wish) across the UK. It even contains a fun 25 question Etiquette Quiz to test if your manners are Palace ready!  If you don't feel they are, book for a private Manners Masterclass below.

Who do you know that would enjoy this gift? It covers the history of afternoon tea, what to look for when going out for teatime treats, how to hold a British-style tea party, recipes and more.  With contributions from The Dorchester of Park Lane, Rodda's Clotted Cream, Betty's of Harrogate etc, this fascinating gift book is beautifully highlighted with lovely colour photos and illustrations - even showing how to make the perfect sandwiches! 

Want to feel Palace ready with your manners? Confident when dining out?



BOOK for a PRIVATE AFTERNOON TEA ETIQUETTE MASTERCLASS via zoom with Jane Malyon. Click on the image to book now.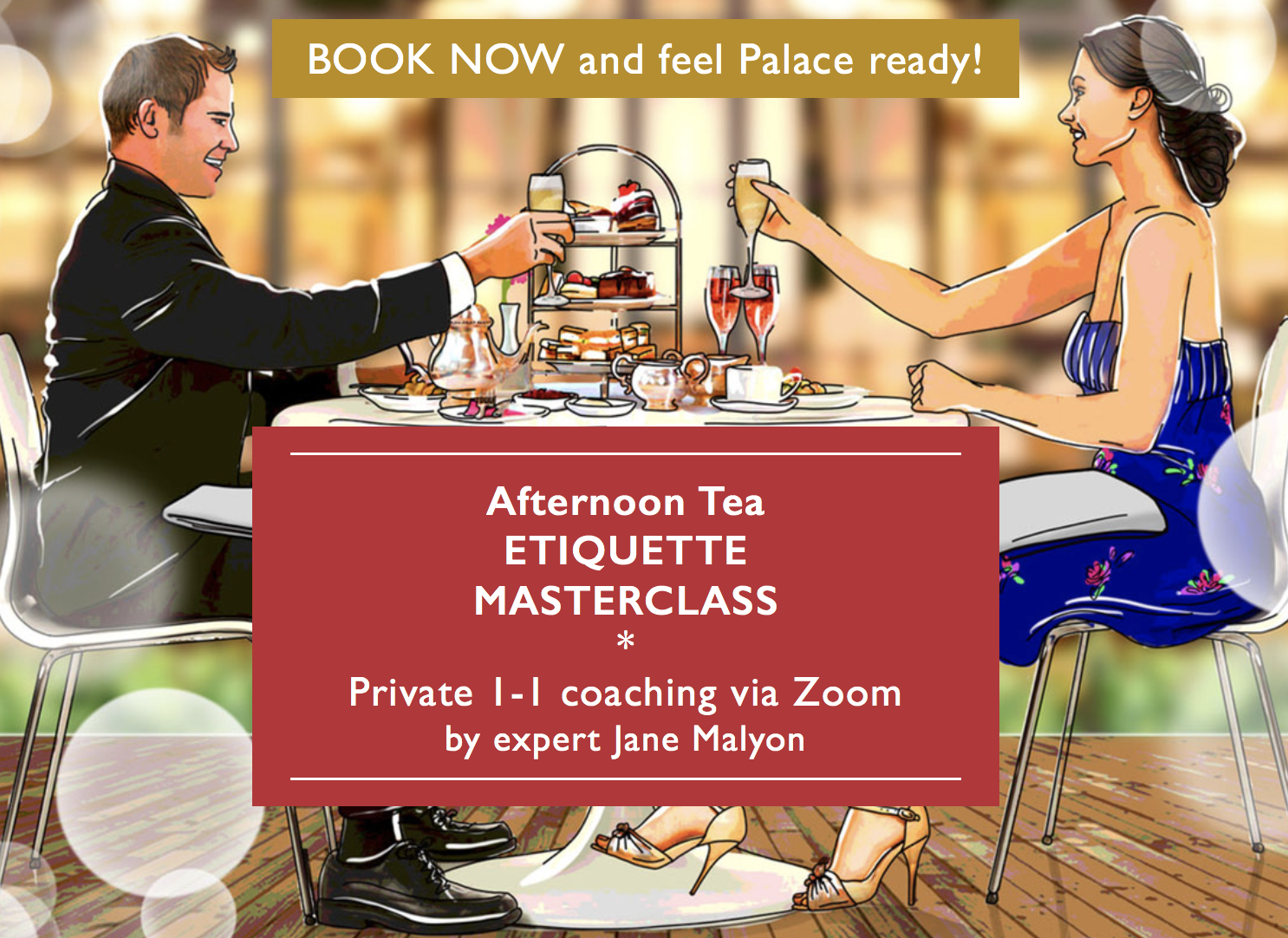 Meanwhile, here's one of our many videos about teatime manners, just in case you get invited to the Palace later!
Top ten tips of English Cream Tea Etiquette!
Our TEDx talk is called: How Afternoon Tea Could Save The World TEDx talk link (of course it could!). Click on that title to find out why we believe the manners of sharing, being in rapport and showing consideration are exactly the same traits that could save our world.

TO BOOK JANE MALYON AS A SPEAKER:
Please 

email

with details of the date, event, timing, location and approximate guest numbers.  Click here to see Jane's speaker website  Thank you.