Manners please - No 'Scone Burgers' at tea!



We know the most important thing is to enjoy your English Cream Tea. Of course that matters greatly. It's a treat, for sure and may be a lovely part of a day out somewhere with friends in a cafe, tearoom or hotel.  Perfect!  Your scone, cream, jam and a cuppa will be just the pick-me-up you deserve.
But if we could just politely request:

Do not pile both sides of the scone back together again once you've applied your cream and jam, to form a sort of scone 'burger'.  That is a no-no!   

Why is it wrong to put the sides of the scones back together again?
Well, for a start, it's impossible to eat one of these 'burgers' without a big, squidgy, cream and jam explosion.

It goes everywhere!

It's also not very nice to watch someone attempting this either! Believe me, I've had to as well :D


More importantly though - you're missing a trick because you can get MUCH more cream and jam on the two separate halves than a combined scone burger. And it's the cream and jam that are the crowning glories, whether you prefer it the Cornish way (jam first) or the Devonshire way (cream first)!



It's also nice etiquette if you break your scone halves into smaller pieces and just add jam and cream per bite, as you go.  Oh and whilst we're about it, it's a given (isn't it?) that you've remembered to break your scone in half in the first place (never cut a scone!) AND you've put your jam and cream on the side of the plate, right?  Ah yes, the rule there is to never dollop it straight onto your scone from the communal bowls of cream and jam. 

Oh the 'rules', the 'rules' - but mostly they're about consideration! It's about being dainty and nice when we're out enjoying English Cream Tea with other people and these are just some of the British etiquette tips and teatime manners around eating your scone. On the other hand, if you're at home and alone - you eat it any way you like it! No one is watching, so tuck on in!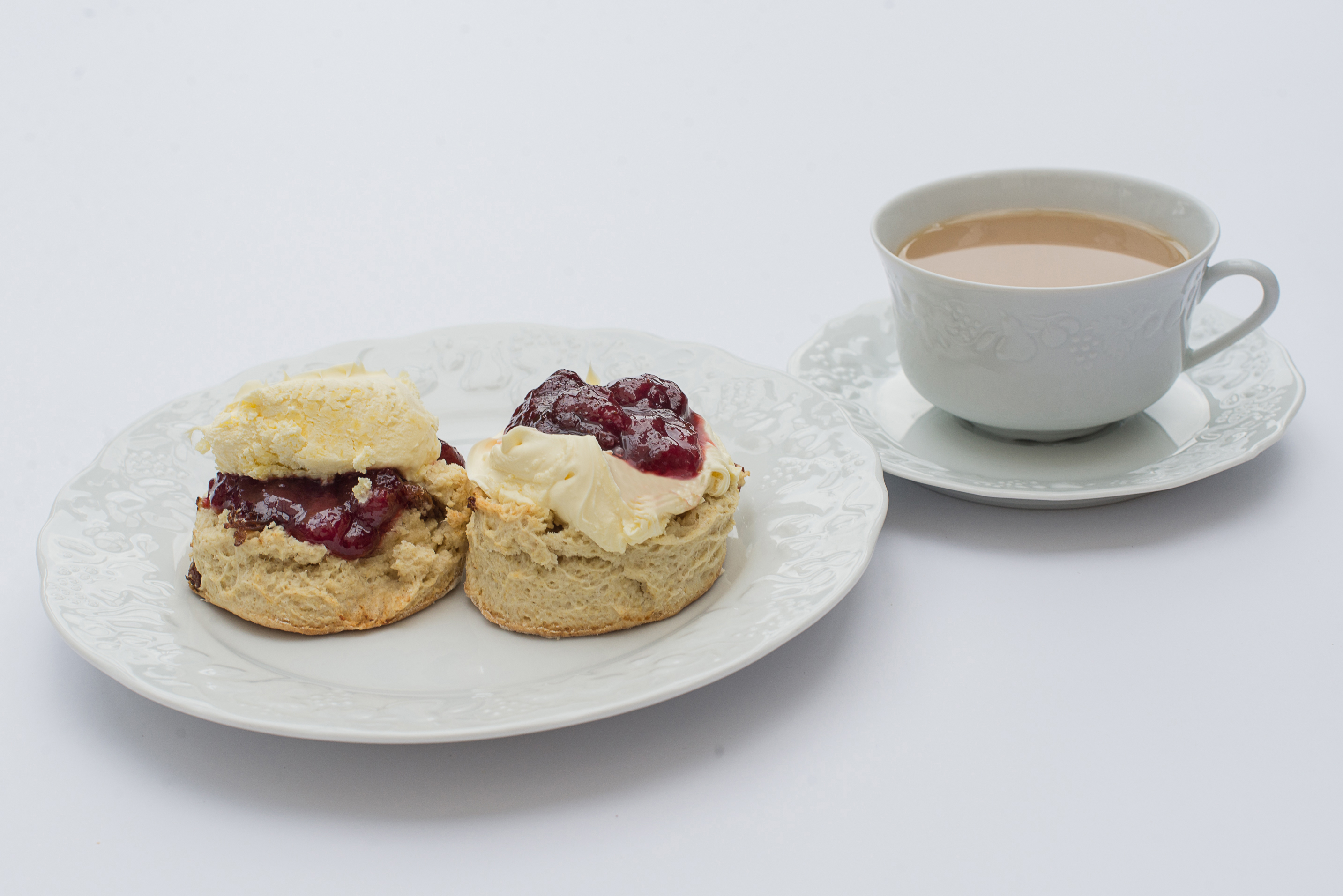 English cream tea is a treat indeed and often forms part of the more extensive indulgence of afternoon tea, which includes sandwiches and possibly other savoury items as well as a wider selection of cakes.  That's quite the feast. London hotels like The Ritz are famous for afternoon tea. However, it's such a big treat that many people enjoy afternoon tea instead of lunch or supper as a result!

If you would like more information about the great tradition of Afternoon Tea or The English Cream Tea Company, please contact Jane and Roger on 01279 876661, visit the website or email.